IFG's funding partners are institutional investors across the globe
For nearly five decades, IFG has provided working capital to support growing businesses. We're specialists in early payment solutions including Digital Supply Chain Finance and Digital Invoice Finance.
Our syndication-participation model provides attractive returns for short-term, diversified transactions in Supply Chain Finance and Invoice Finance.
Why Supply Chain Finance?
It's an early payments program for suppliers, sponsored by large corporate buyers
It's a £1 trillion pound annual opportunity world-wide
It's growing at 15%+ per year
Buyers and account debtors Global large and are mid-market; Supplier funding is short-term transactions, and all invoices involved are approved and scheduled for payment by Buyers.
Access to underwriting and credit/risk analysis, due diligence reports, and transaction reporting.
Fully online, secure digital platform gives 24/7 access to participants with the added benefits of an auto-invest system.
How Does IFG Supply Chain Finance Work?
1. Corporate buyer sponsors an early invoice payment program for their suppliers

2. Suppliers request early payments on selected invoices up to IFG's dynamic credit limit

3. IFG purchases the invoices at a discount and is paid by the buyer on the invoice's scheduled payment date, typically 30-90 days later

4. Funders purchase participation in syndicated early payment transactions on a pari-passu basis

5. Capital is returned to participants after the invoices are paid, or rolled into a new syndicated transaction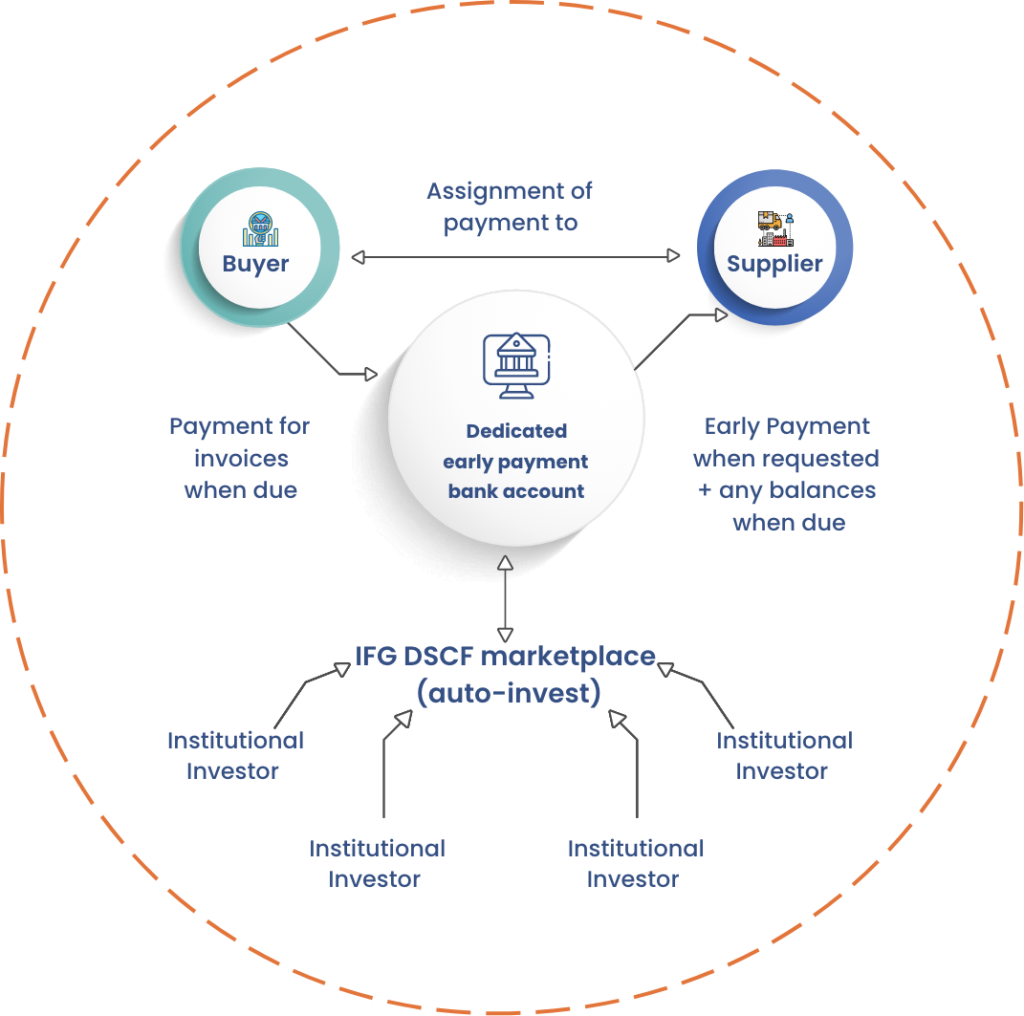 Since 1972, IFG been a leader in meeting the working capital needs of growing businesses. We've succeeded in up and in down markets. Our credit experience, technological expertise, and security are peerless.
We're credit/risk people first, with a digital proprietary platform designed to measure and mitigate risk
We've been on the cutting edge since our beginning. IFG's cloud-based system makes funding simple and secure for end-users and for our institutional investor partners
Bank-grade data security and sophisticated fraud and threat detection, operated in real-time
Interested in learning more?
Please click here for additional information.